Cooling beams | Minib induction units
Cooling without the unpleasant characteristics of air-conditioning systems
Cooling beams represent an ideal solution for cooling office areas. They ensure very pleasant thermal comfort, while having minimal maintenance requirements and low operation cost.
Even cooling of the entire room without any draft
Contrary to air-conditioning systems, cooling beams maintain natural air circulation and evenly distribute cold air. It just cannot happen that the air blows on the people near an air-conditioning unit, while the people on the other side of the room are still too hot.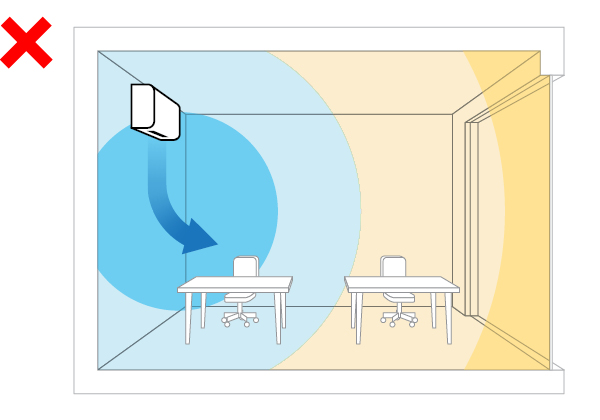 Airflow when air-conditioning systems are used
Airflow when cooling beams are used
Cooling beams use airflow for cooling the air. They represent an ideal choice for office and other areas that require great performance and high comfort. They use water with a temperature of 17-20 °C as their medium. This way they ensure operation cost savings and allow for an easier maintenance since it is not necessary to address discharge of the condensed water.
Benefits of the Minib cooling units
even cold air distribution
minimal maintenance requirements
Assortment of the cooling units
FROM SOLUTION PROPOSALS TO IMPLEMENTATION ASSISTANCE
Can we help your project?
Take advantage of our years of experience and involve us to your project. We will advise you on the most suitable choice of heating and cooling system, we also conduct our own measurements and discuss with the contractor the ideal way of installation.
Why Minib?
Tens of years of experience, our own development and production
Our heating units have been on the market since 1999. We are currently one of the most important European manufacturers in the filed.
Certified power output and long warranty times
All our products are subject to independent certifications of their technical parameters. Thanks to the high quality of the used materials, the MINIB products boost an exceptionally long lifespan and a minimal breakdown rate.
Our own development and innovation
We invest into the development of structural solutions as well as production technologies and we constantly react to the given market changes. We are holders of several patents.
On-site consultations and measurements
We emphasize correct installation of our systems. That is why we personally consult it with the given construction contractor. Moreover, we also conduct our own measurements in the case of individual solutions.